H2RC2 - The Holistic and Homeopathic Resource Consulting Center was founded by Abdul Hayy Holdijk in order to provide access to information mainly concerning homeopathy but also other related complementary medical modalities in Egypt and abroad.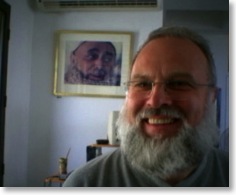 Abdul Hayy L. Holdijk is a homeopath with 15 years of experience, who is the external lecturer for the Lakeland College of Homeopathy, originally founded by Ian Watson, based in the U.K and currently external lecture for the Lotus Institute in the US, founded by Dr. Robin Murphy. He has been running a professional three year homeopathic training course for Egyptian physicians and lay people for the past 10 years. He holds two diplomas in homeopathy from the U.S. (C. Hom., Hahnemann Academy of North America) and the U.K. (International Certificate of Homeopathy), and is also a founding member of the Egyptian Society of Homeopaths. (for a detailed history of homeopathy in Egypt see his website)

He has been, Associate Director of the Writing Program, and the Associate Chair of the Department of Rhetoric and Composition at the American University in Cairo with 32 years of university teaching experience.

Another hat he wears is as an aspirant on the Naqshbandi Sufi path and holds a regular weekly "circle of remembrance" (dhikr in Arabic).

Contact information: holdijk@aucegypt.edu


This site was set up through the generous donation of Wafaa Sultan and the pro-bono work of Abdul Wadud Hughes. All of this would not have been possible without the generous spiritual guidance of our Master Sheikh Muhammed Nazim Adil al Haqqani.


Graphics





At the top of this page and Home Page: Traditional Arabic Calligraphy - "In the Name of God, Most Compassionate and Merciful"
At the bottom of this page: Arabic Calligraphy by Rana Jalabi - "The Living (God)" - (H2RC2 logo)

All other pages at the top: Traditional Arabic Calligraphy - "In the Name of God, Most Compassionate and Merciful"