Latest News and Calendar
New Polarity Analysis According to Heiner Frei Webinar is now available for purchase:

On Vimeo:
https://vimeo.com/ondemand/polarityanalysis?
This webinar will explain the technique in detail and upon request will give you access to the online forms that are uniquely offered by Abdul Hayy Holdijk.

2017 Professional Homeopathy Course


A new professional homeopathy course taught by Abdul Hayy L. Holdijk will be starting
in February, 2017

Click on the link below to access the streaming video of the orientation session:

Professional Homeopathy Course Orientation Session
Registration Session:

The Registration Session for the course will be on
Saturday, January 14th in the Swiss Club, Imbaba, Cairo from 16:30 to 17:30 pm.
You should bring your 3 months advance payment at that time.


First Weekend of the Professional Homeopathy Course

The First Weekend of the course is scheduled to be
February 17th and 18th, 2017 in the Swiss Club, from 9:00 am to 16:30 pm.

Swiss Club, Imbaba
(
click here
for map)

For the calendar of this course for the year 2017
click here

If you would like to register, please email
ahholdijk@gmail.com
or ask
for more details.
Pre-requisite Foundation Homeopathy Course

As mentioned in the orientation session, there is a pre-requisite course for the longer Professional Homeopathy Course. I have appended the details of that course, price and payment below.


New Online Foundation Homeopathy Webinar
Available for Streaming
H2RC2 will be offers an 24 hour module on an introduction to homeopathy. The Foundation course will be available for streaming at any time before the beginning of the
three year Professional homeopathy course
. The Foundation Homeopathy course consists of 6 x 4 hour modules. This is a pre-requisite for the longer 1 and 3 professional year course, however it works as a stand-alone course as well. Cost will be $ 50 per 4 hour module and there are 6 modules of which the first three are required and the last three are optional.

The course will require that you have a computer and an ADSL line and a browser. For more information
click here.


If you are interested in the Foundation Homeopathy course, please contact me at:
holdijk@aucegypt.edu
2012 Professional Course has graduated and received the International Certificate of Homeopathy by the Lotus Institute, USA. Elf Mabrouk!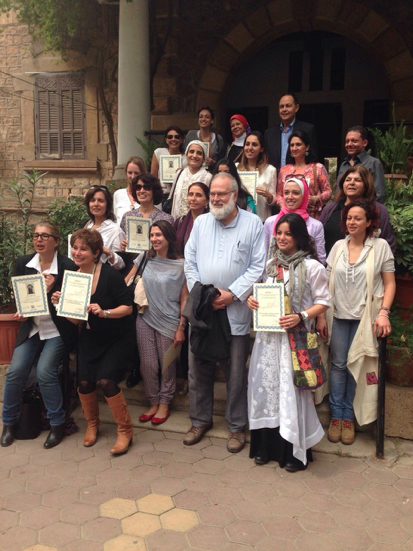 2014 Professional Homeopathy Courses is soon to graduate.

2015 Professional Homeopathy Courses is now on going.

H2RC2 Publications

H2RC2 in collaboration with Mishkat Publishing house has translated and published Amy Lansky's book
Impossible Cure
in Arabic. The book is available for free from Abdul Hayy or the Egyptian Scientific Society of Homeopathy


Events and News History

For more information on previous seminars and events.
Local Press

For more information on homeopathy mentioned in the local press.